Plastic Industries Project Reports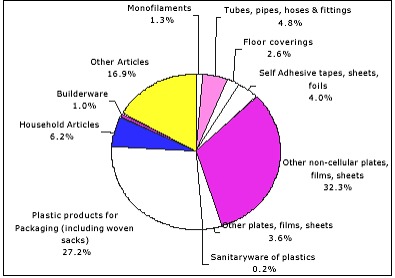 Plastic Industries Project Reports
Product Description
Plastic Industries Project Reports

Present consumption of Engineering/performance plastics is relatively low due to a high costs. However recent changes in the tariff barrier has resulted in lower costs and with the rapid growth in the automotive and the domestic appliances industry, performance plastics(viz. ABS, SAN, NYLON, PMMA, PET/PBT Poly Carbonate, Poly Acetal, Polyphenylene oxide (PPO), Polyphenylene Sulphide(PPS). etc.) are expected to grow at more than 20 % over the next five years.

An upsurge in the "Disposable income" and higher expectations of the consumer in terms of quality makes the use of engineering plastics imperative. This is one area which will be of interest to international companies to develop in the near future.

The total consumption of the five major thermoset polymers(viz. PF, UF, MF, EPOXY & PU) during 1999 was about 70 KT. The growth in the phenolics and epoxy consumption in areas of electronic/electrical appliances, laminates and power coating is expected to be 9-10 % p.a over the next decade.
To meet this fast -expanding market and to make available the necessary end-products from polymers, India already has a
strong, well developed processing sector with capacity outstripping demand. There are many small processors who cater to low volume, low cost items and large sophisticated processors catering to high volume business.
The fast growing Indian processing sector has a place for all processing techniques and is geared to produce plastic products of international quality. The basic infrastructure of the sector, with a mix of imported and indigenous machinery, an cater to the world market.

India has a large pool of trained technical and managerial manpower. This, supplemented with abundant skilled and unskilled labour at low cost, presents an ideal ground for foreign investment in the processing sector to cater to global needs.